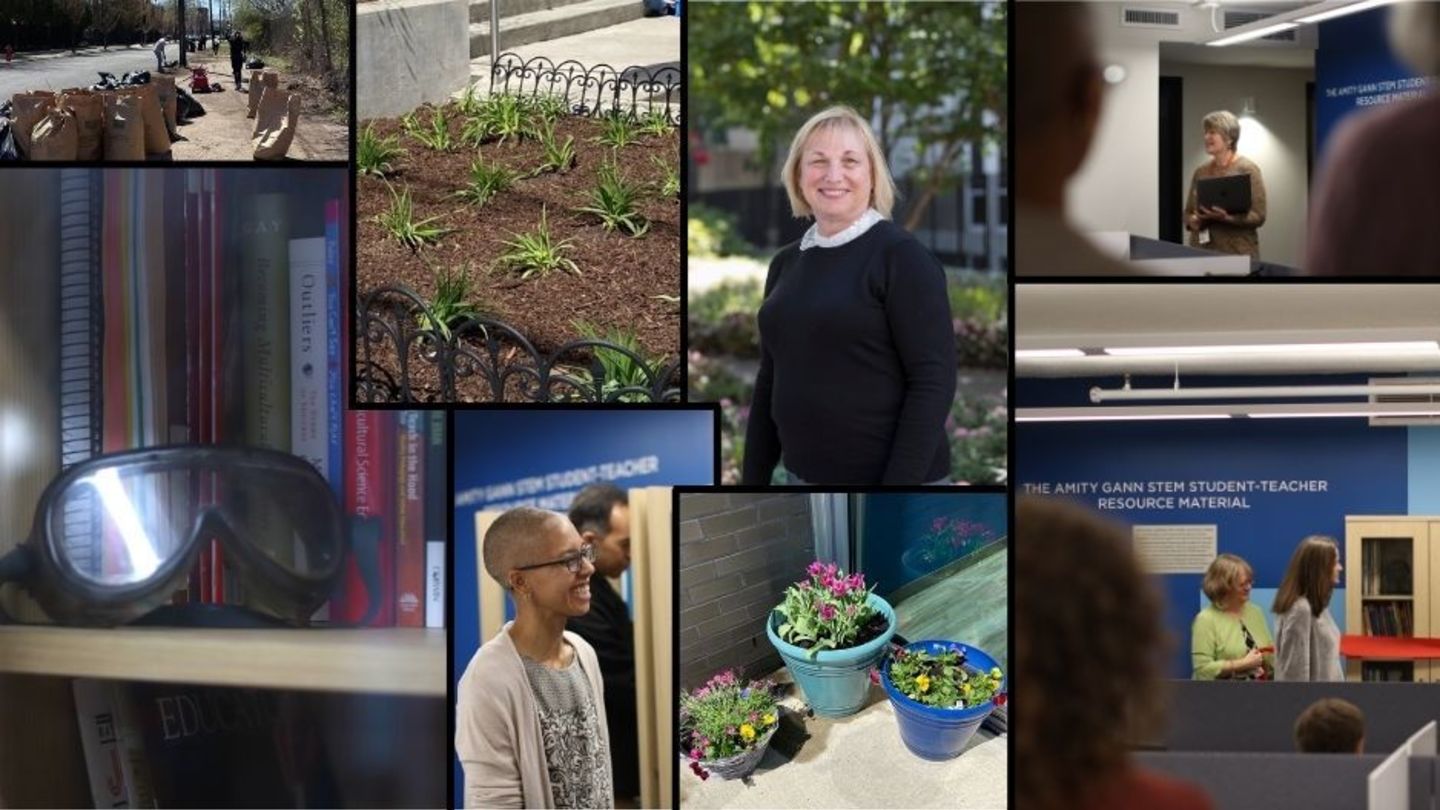 To be Temple Made is to celebrate the positive impact Temple University Owls have made on the world. Temple Made Days embodies what it truly means to be Temple Made: serving, supporting and celebrating the Temple community. This year, the College of Education and Human Development (CEHD) hosted its first annual Cindy's Day of Service event, as one way for the college community to share our pride and give back. 
CEHD's Cindy's Day of Service aims to celebrate the lifelong legacy of Dr. Cynthia "Cindy" Belliveau. Belliveau, a professor of practice in psychological studies in education within the college, had a deep passion for service learning and community-building. CEHD faculty and staff recognized this passion and collaborated with Cindy's loved ones to establish the inaugural event, held on April 2, in conjunction with the Philadelphia Mayor's Office "Philly Spring Clean Up" initiative. 
Cindy's Day of Service 2023 took place at the North Central Community Center, where volunteers cleaned up flower beds, pulled weeds from under trees, and planted new plants. They also cleaned up trash and debris from four additional locations in the surrounding area. There were almost 40 volunteers, including Cindy's family and friends, students, faculty and staff. Kelly McGinn, assistant professor of psychological studies in education, organized the team. 
"The event went great, and we gathered at least 60 bags of trash from the neighborhood," said McGinn. "We plan to host a similar service-oriented event every year in her honor. We are also working with Cindy's family to develop a scholarship in her name that will be tied to this annual event." 
CEHD Owls share their pride in being Temple Made every day by preparing future educational leaders and agents of change. It's a pride that leaves a lasting impact. Amity Gann, EDU '19, exhibited that spirit. 
Gann, a CEHD doctorate student, lost her battle to cancer in September 2020. Her life's work was dedicated to STEM education for both children and future educators. During her time at Temple, she received two awards: a commencement award, and the Marlene S. Korn Humanitarian Award, which goes to a student who has made a great humanitarian contribution in the areas of teaching, scholarship and service. When notified about her award, she wrote two letters, one to thank the donor for their support, and the other a love letter to Temple University. 
"It's so hard to put it in words how much she cared about equity and education, particularly how science is taught, and the structure of what we say in the classroom," said Derek Coffman, CEHD development and alumni relations major gift officer. "She was in this constant state of learning and trying to get better at teaching, and more."  
When she passed in late 2020, her partner, Rebecca Hubbard, reached out to the college with the idea to do something in Gann's honor. Amity left behind many books and resources related to the field of STEM teaching, so the college decided to create a library with all of those materials for students to utilize. Gann's family and friends jumped on board and helped raise the funds needed for an endowment.
The ribbon-cutting ceremony for the Amity Gann STEM Student-Teacher Resource Material Center took place on Saturday, March 18.
"Overall, it was a very touching moment for everyone involved to be able to celebrate her life in this way and to see it memorialized in a physical space like that," said Coffman. "We know that her passion and the fruits of her labors will be passed on to future generations."
As Gann wrote in her love letter to Temple University, "If each of us works to shift our view away from uplifting individual and instead toward uplifting our whole community, I know we can build a better world."
Here at the College of Education and Human Development, we teach our students to pursue their futures as educational leaders and agents of change with the intent to improve the lives of others. Learn more about service opportunities that CEHD offers on our calendar.