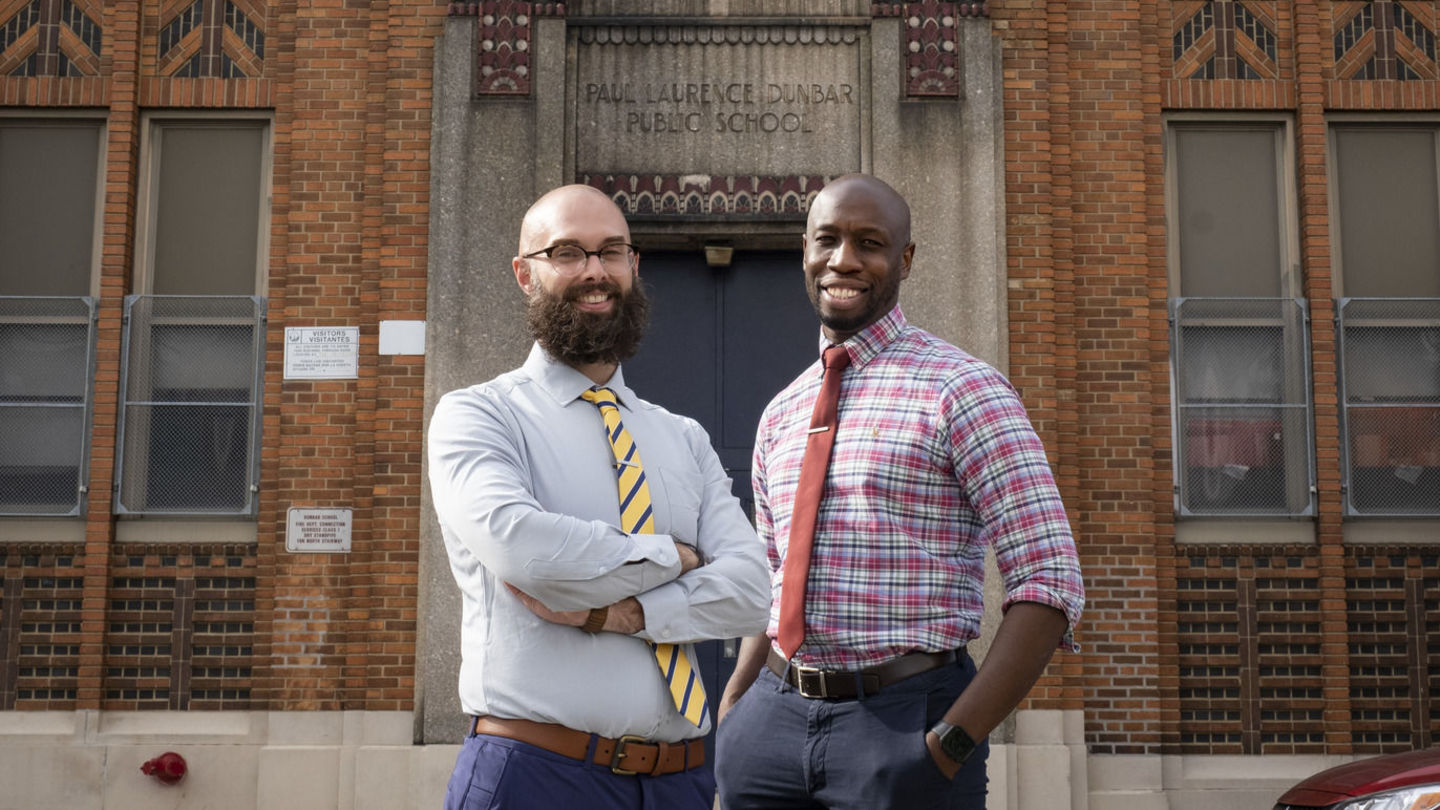 Joseph V. Labolito
It seems fitting that Temple alumni Daniel Mina, EDU '14, and Justin Hall, CLA '08, were hired together as principal and assistant principal of nearby Paul L. Dunbar Elementary School to start this school year. They were close friends in middle and high school before taking different paths in education and uniting once again at Dunbar.
Principal Mina, previously the assistant principal at C.C.A. Baldi Middle School in Philadelphia, succeeded Principal Dawn Moore, CLA '96, EDU '00, who retired from her duties at Dunbar last year. 
Mina said he felt proud and humbled when he was named principal of Dunbar because of its legacy going back from Moore to Marcus Foster, a nationally known educator who served as principal of Dunbar in the 1950s. 
"Marcus Foster recognized the potential of a place like Dunbar because of its location, the connection to Temple and other community organizations, while recognizing the need as well," said Mina. "I also look at the work Dawn Moore has done and all of the other principals in between, so I see my role as a continuing process of trying to support the kids in this community as best we can."
Mina explained that this school year at Dunbar is like no other, due to the challenges of coming back from a pandemic. He added it is important to honor and acknowledge the role that all the teachers play in supporting the students.  
"There are a number of staff members at Dunbar, who are also Temple alumni, who have worked for a long time in collaboration with Temple to support our students," said Mina. "It is the strength of our teachers, the strength of the team that we have at Dunbar and the support we get from Temple [that have helped make] this year work for our students."
Dunbar's connections to Temple run deep. Over half a dozen alumni currently work at the school, including (pictured from left to right): Cashonna Thomas, FOX '99, Timothy Adkins, CLA '98, Angela McCrea, EDU '92, Daniel Mina, EDU '14, Justin Hall, CLA '08, Linnea Hunter, CLA '99, Anna Johnson, CLA '03, Andrea McNulty, EDU '12, and Angela Berry, EDU '93. (Photo by Joseph V. Labolito)
 
Assistant Principal Hall, who was previously the director of student services at Southwest Leadership Academy Charter School in Philadelphia, found out that he would be working at Dunbar after Mina, his longtime friend, called to inform him that he'd been accepted for the position. 
"To end up here after all that time is kind of wild. We ironically talked about being roommates freshman year at Temple," said Hall. "So, your friend calling you to let you know the interview team thinks you are a good fit, is special."
"I've personally known Mr. Hall for a long time and I think it's because of that trusting relationship we have with each other: We have those shared values and shared purpose of education," added Mina. 
Hall, a native of Queens, New York, said he attended five different schools and school districts, including the United Nations International School, a private school in New York for early elementary, along with a parochial school in New York. Then he moved with his mother to the Poconos, where he first met Mina in eighth grade at a public school in Brodheadsville, Pennsylvania. Hall said it was his first time attending a public school.
The experience of attending various schools inspired Hall to pursue a career in education. 
"I had seen how these different school systems interacted with students. I observed that schools have a large impact on how students develop and how they form into fully functioning adults, so I developed an interest in education," said Hall.
Dunbar's assistant principal explained he pursued a degree in psychology because he developed an interest in helping people overcome challenges, some of which he faced himself. 
"I desire to help students like myself, so reflecting on my experience I saw students as a version of myself. Every student could go left or right multiple times and it leads them to whichever path they go in life," said Hall. "Mental health is a large part that, like when my parents got divorced, was a critical point in my life. Being able to help people through those types of turbulence became something I was interested in."
"I always knew that I wanted to support a school in the School District of Philadelphia," added Mina. "I saw the opportunity education provided to me being the first person in my family to go to college, so I wanted to support other kids in that as well."
The native of Teaneck township in New Jersey explained that he wanted to work in urban education to help people overcome systemic barriers that might prevent them from being afforded the same opportunities. 
"I saw education as a lane where you can provide equity that can support kids to maximize their potential in the future," said Mina. "I hope to be a part of helping kids receive the necessary skills to pursue their interests and goals."
It has been a long time coming for the two childhood friends Mina and Hall to reunite and unlike so many, they get to share their continued moments and career achievements as adults and educators at the same school.