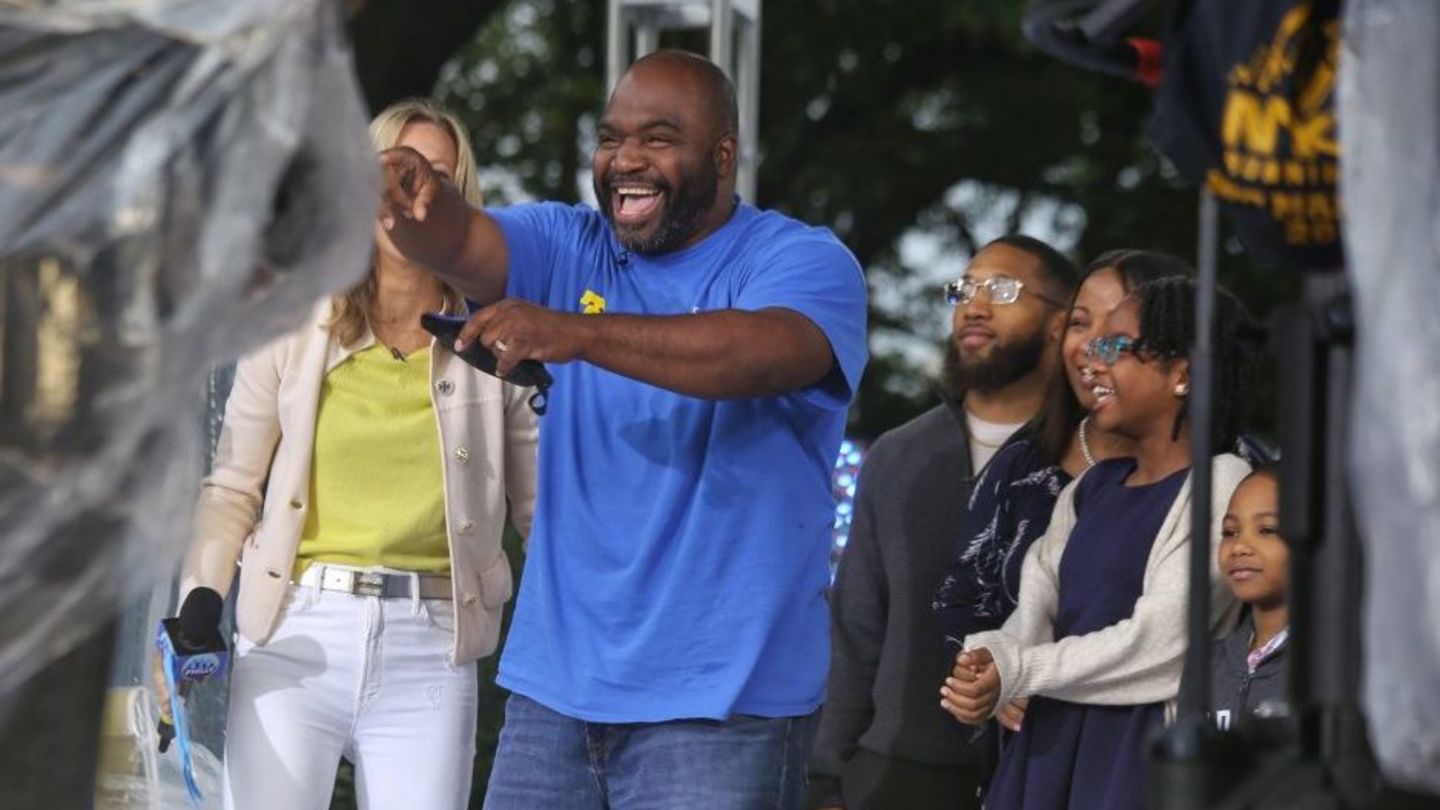 The City of Philadelphia Photographers
On June 13, 2019, Good Morning America (GMA) visited Philadelphia to honor College of Education alumnus, Charles Reyes EDU '17 for his dedication to community service and education in North Philadelphia. 
While working with food charity, Philabundance, community school coordinator at Murrell Dobbins Technical High School, Reyes was surprised and escorted out of the school blindfolded by GMA's T.J. Holmes. From there, they headed to the Benjamin Franklin Parkway, where Reyes' family, friends, students, and coworkers awaited his arrival.  
Once Reyes took off his blindfold, he was overjoyed to see the large crowd before him. When GMA host, George Stephanopoulos asked Reyes how he was feeling, he did not hold back.
"I'm speechless, man. I'm speechless."
GMA showed a video documenting Reyes' career with Murrell Dobbins Technical High School. It was evident that Reyes' career was dedicated to making a transformative impact on students. From funding a student's prom to tackling the issue of homelessness to addressing food insecurity in North Philadelphia, Reyes was always there for Murrell Dobbins students. 
Reyes' wife was brought to tears in the video, saying, "[h]e really is making an impact on this world one person at a time".
After the video, Philadelphia mayor, Mayor Jim Kenney was brought onto the stage for a special announcement.
"I'm so excited to welcome Good Morning America to our city. Philadelphia is filled with incredible people like Charles who work day in and day out to give back. We are so inspired by [Charles'] unbelievable service, we're declaring June 13, "Give Back, Make an Impact Day" and hope everyone who is watching is inspired to give back to their hometowns and lend a helping hand to those in need."  
Reyes was later awarded a family trip to Aruba from Holiday Inn.
The cherry on top of the day was PNC Bank's donation of $20,000 to Philabundance.
Read more about GMA's visit to Philadelphia.