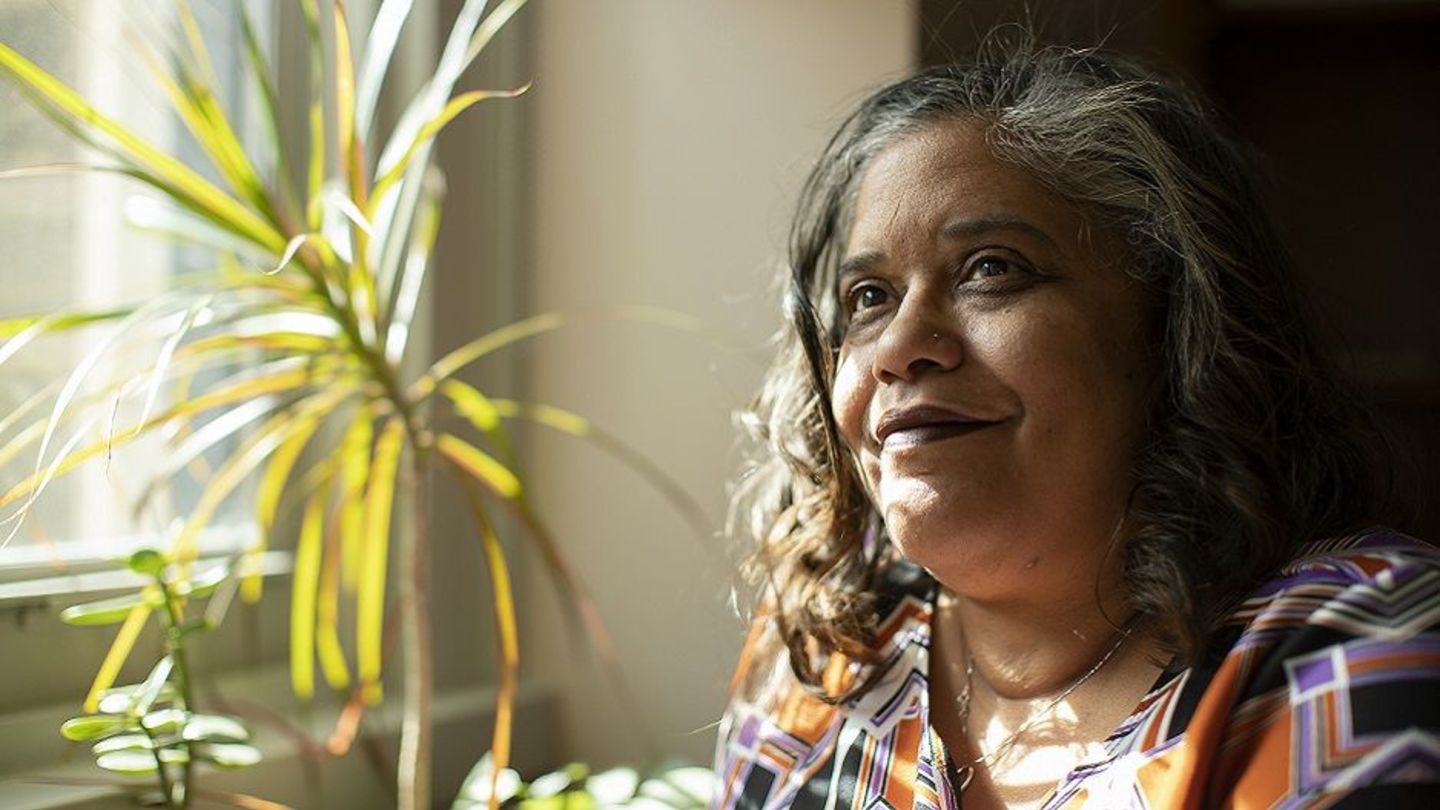 Ryan Brandenberg
Evy Lopez-Feliciano is a mother—to her soon-to-be 18-year-old son, and to each student she supervises in the Office of the Vice Provost for Faculty Affairs, where she works full-time supporting faculty. She's a wife, too, and cares for her own mother, who's 85 years old and has been diagnosed with dementia. 
And now, after 14 years of juggling classes, full-time work and the demands of life, she's a Temple graduate. Lopez-Feliciano completed her bachelor's degree in adult and organizational development in the College of Education in December and will walk at this month's Commencement ceremony. 
"Every time I would see my mom, she would ask if I was done yet because it had been so long," Lopez-Feliciano said. "When she got sick, I would think, 'Please hang in there a little longer, I'm almost done.'"
It was her mother's dream to see her daughter earn a college degree. From the Dominican Republic, Lopez-Feliciano's mother never had access to an education. She left the Dominican Republic when she was young to search for a better life, and made her way to Puerto Rico. There, she met her husband, and the two eventually moved to Philadelphia. 
"My mother is an immigrant and came to a country that was unknown. That's where I got my determination and will," Lopez-Feliciano said. "She wanted her family to have a better life than in the Dominican Republic and that always stayed with me. The older I got, I thought, 'Wow, my mom wanted me to go to college and I didn't because I wanted to make money.' I knew I had to do it, I had to go to college." 
[node:pullquote]
After growing up in Philadelphia and graduating from high school, she hoped to one day go to Temple. Fresh out of high school, she wasn't ready for college yet, and she instead entered the workforce. After working for nearly 20 years, her mother's dream for her kept popping into her mind.
"It was a struggle to not have a degree. It was difficult to move on from job to job because you get pushed to the bottom of the barrel," Lopez-Feliciano said. "I always had to work hard, work two jobs. I knew I would have to go back to school to advance." 
Back in 2000, she went for a job in Temple's Human Resources. It was her chance to get into Temple. But she didn't get the position. 
Three years later, her phone rang. That same position was available again, and she was invited in for an interview. This time, the job was hers. She started taking classes the next year, when her son was just 4 years old. 
"Though I started late, college opened my mind to things I never thought about. Mosaics was not my favorite class—I thought I couldn't do it. My colleague mentored me and encouraged me. She said I could do this, I could understand readings like The Epic of Gilgamesh," Lopez-Feliciano said. "My son started reading Gilgamesh in high school, and I can relate. I can talk about it with him." 
She at first took one class per semester, but as the years went on, she wanted to pick up the pace. She began taking on as much as she could—two classes in the fall and spring semesters, and courses over the summer. 
"I worked so hard. There were times I said, 'I quit, forget it,'" said Lopez-Feliciano. "But when you start thinking you want to earn more, you want a further reach, you have to do it. And what example am I setting for my son? When he sees me walk, he's going to be even more proud of his mama."
Lopez-Feliciano is using her degree to help develop training sessions for each school and college so administrators across Temple understand the process for faculty contracts, contract renewals, tenure and promotions. A self-proclaimed lifelong learner, she's currently considering graduate programs.  
—Samantha Krotzer