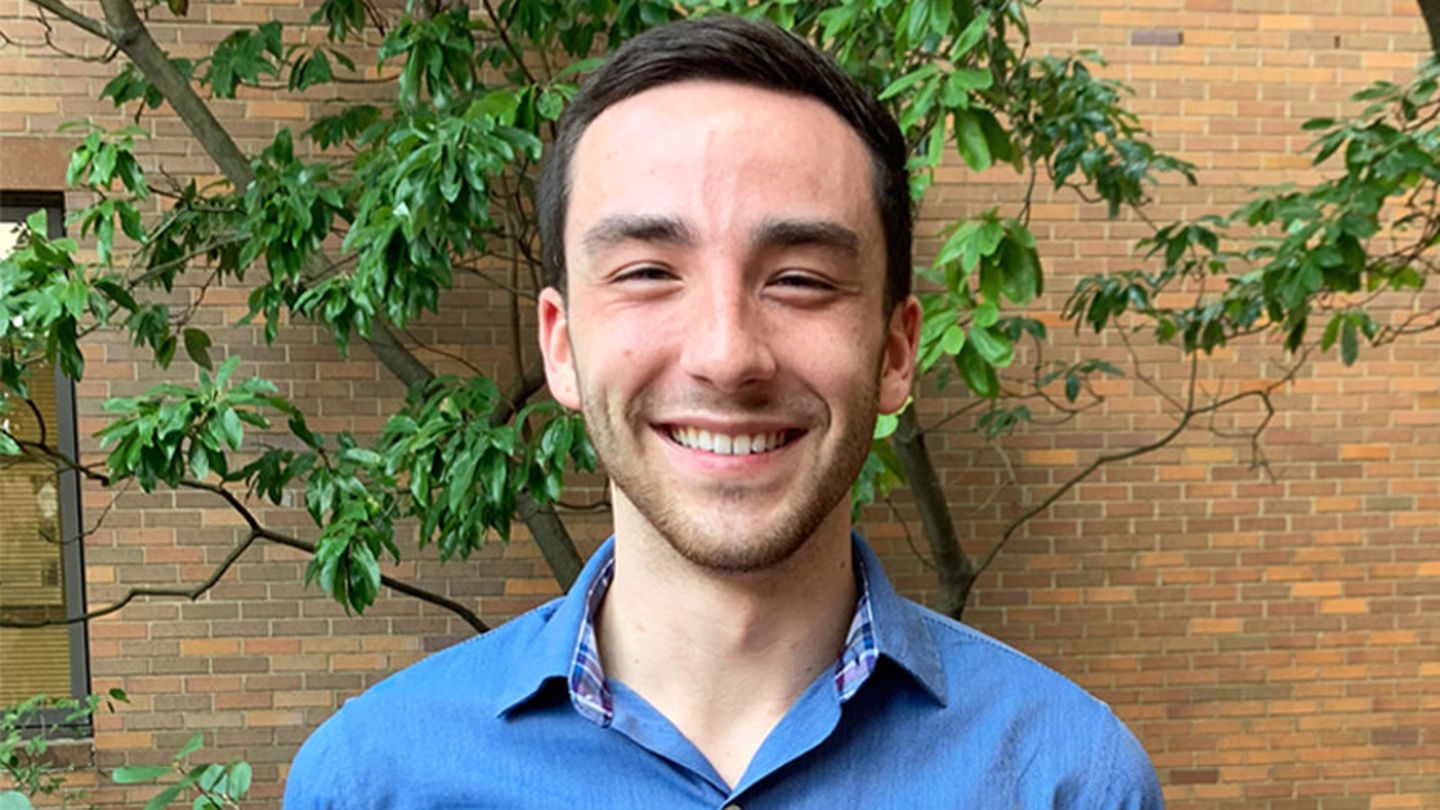 Heather Goodman
Today, the College of Education and Human Development celebrates World Math Day. In honor of this special occasion, we sat down with future math educator, Jason Hickman EDU '20, to ask him about his passion for math education. Hickman is currently pursuing his MEd in Secondary Education with a concentration in mathematics and plans to graduate in May 2020.
---
What is your first memory of math?
It sounds silly, but when I was in daycare learning numbers, we were asked to count as high as we could. Of course, three or four of us decided we were going to be the ones to count the highest. We couldn't go one at a time because someone would cheat and copy us. That's the story of how my teacher ended up with several four-year-olds screaming numbers at her. (If it matters, I came in second place only because I choked on air at 144.)
What attracted you to math education?
Math was always my favorite subject and when I started to consider education as a career path, I knew that was what I wanted to teach. There's also a huge need for math teachers, and I hope that I can improve students' confidence and help alleviate some of the anxiety some students feel towards math.
What is it like teaching math?
Unfortunately, by the time students reach middle and high school, a lot of them have a stigma against math or have decided that they aren't "math people."  In my experience so far, teaching math at that level is a combination of teaching the content, reassuring students that they are capable of learning it and trying to find ways to connect content with the things they care about, so students can recognize that it is important to know some math. Also, it's more than just teaching processes.  The hope is that students understand why the math works because that's what allows them to apply their knowledge to new problems and gives them a foundation on which to build when learning new concepts.
What is your favorite thing about your current field experience? 
I'm currently completing a field experience at Kensington Health Sciences Academy (KHSA) where, once a week, I provide additional support aimed at English learners in a 9th grade algebra class. So far, I have been teaching a small group or individual students, but I am looking forward to teaching a full lesson to the class next month, as that will be the first time I will be leading a whole class for the full class time.
Is there anyone instrumental in your math education career?
I've found that I often draw from pieces of other teachers' instruction, either that I experienced as a student or that I have observed in my field experiences.  Some of those teachers have been teaching for years and they've found ways to deliver content that students appreciate and respond to, and I appreciate that I can use their experience to help me as I start out as an educator.
What do you envision doing with math in the future?
My current goal is to teach high school math after completing my MEd in Secondary Education.
How will you be celebrating World Math Day?
I'll be at KHSA for my field experience helping students to learn how to solve multi-step equations.
Do you have any advice for individuals interested in pursuing a career in math education?
Use all of the resources available to you.  There are so many successful math educators, and there is so much research on effective math education (to which several members of the faculty in the College of Education and Human Development have contributed quite a bit).  Take advantage of that. Talk to the teachers you work with, talk to faculty, read some of the research. It can be very helpful, even as early as your first field experience.
How has the MEd in Secondary Education program at the College of Education and Human Development prepared you for a career in teaching math?
I think Temple's location and its partnership with the School District of Philadelphia have provided me with such excellent opportunities to work with students in a wide variety of schools. I've completed field experiences at Murrell Dobbins, First Philadelphia Charter, the Science Leadership Academy and Kensington Health Sciences Academy so far. Those field experiences, as well as my upcoming student teaching, will be extremely helpful when working as a teacher with all sorts of students.