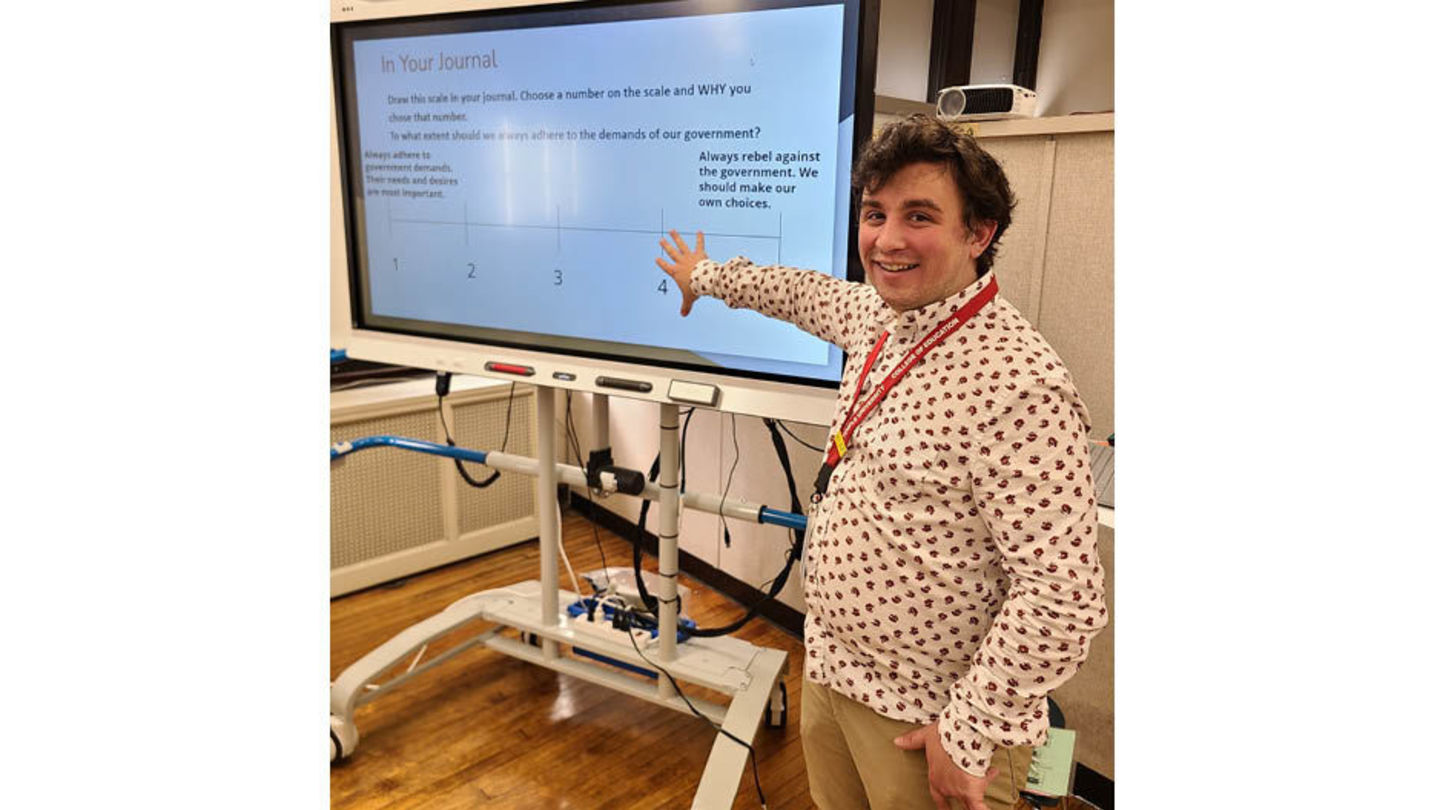 Impressive. Positive. Honest. These are just a few of the words used to describe teacher candidate and Temple University graduate student, Eric Baker. Baker, who came to Temple after completing his undergraduate degree in Theater Studies at Rider University, began his student teaching experience this fall at Academy at Palumbo, a historic Philadelphia high school located in Bella Vista. He is currently at the Academy co-teaching with English teacher Ronald Paulus, who says he is in awe of the College of Education and Human Development's teacher education program because of how thoroughly prepared Temple students are for student teaching practice.
"One thing I really appreciate about working with Temple students is that they come with ideas, instead of waiting for me to tell them what to teach and how to teach it. I really like that the student teachers reach out in advance to find out what my year will look like and then plan accordingly, again, with ideas for approaching the texts that we're covering this year," Paulus said.
While Baker is not the first student teacher Paulus has shared a classroom with, he is especially impressed with Baker's planning and implementation process. The two worked together to incorporate reading material Baker recommended into the curriculum. Within just two weeks of co-teaching, Paulus decided Baker was more than ready to teach an English III class on his own.
"My focus is on teaching critical thinking and making sure my students know how to write correctly throughout their academic careers," Baker said. "Student development was impacted by COVID-19 and getting them to where they should be in terms of writing when they leave my classroom is a challenge I'm ready to meet."
Before Baker decided to try his hand at professional education, he held a ten-year career within the Philadelphia theater community where he worked on over two hundred shows. In recent years, Baker sought out a change of pace. He already had experience with teaching teenagers through working on theatrical productions at local high schools, and he teaches public speaking to students at various summer seminars through a leadership program. Becoming a certified teacher was then a natural move. He said he applied to CEHD's Secondary Education Master's Program because of its reputation and his love for Philadelphia. Now, looking forward to graduating in December 2022, Baker feels well-prepared for his journey into the world of leading a high school English classroom.
"My personal experience prior to attending Temple's College of Education and Human Development brought me 40-percent of the way there, but it's my classes at Temple that brought me the rest of the way. The faculty and staff did the bulk of the prep work for me. Specifically, there were two classes taught by Professor Aidan T. Brett, Methods of Teaching Reading and Literature, and Methods of Teaching Composition and Writing, that really helped me learn."
Both Paulus and Baker offered advice to students about embarking on their student teaching experience
Paulus said, "This is your opportunity to practice and hone your craft and develop your teacher tools. Reflect on each lesson, come with ideas, and have a great time bonding with and teaching your students. They want to like you, and when you make it engaging for them by planning and implementing a variety of activities, they won't get bored, and you'll foster in them a passion for learning."
"Listen to your professors," Baker said. "They know way more than you think they do. Go into your student teaching planning to do the absolute best you can do every day. Don't be afraid to make mistakes."
Learn more about teacher preparation programs at Temple University's College of Education and Human Development.