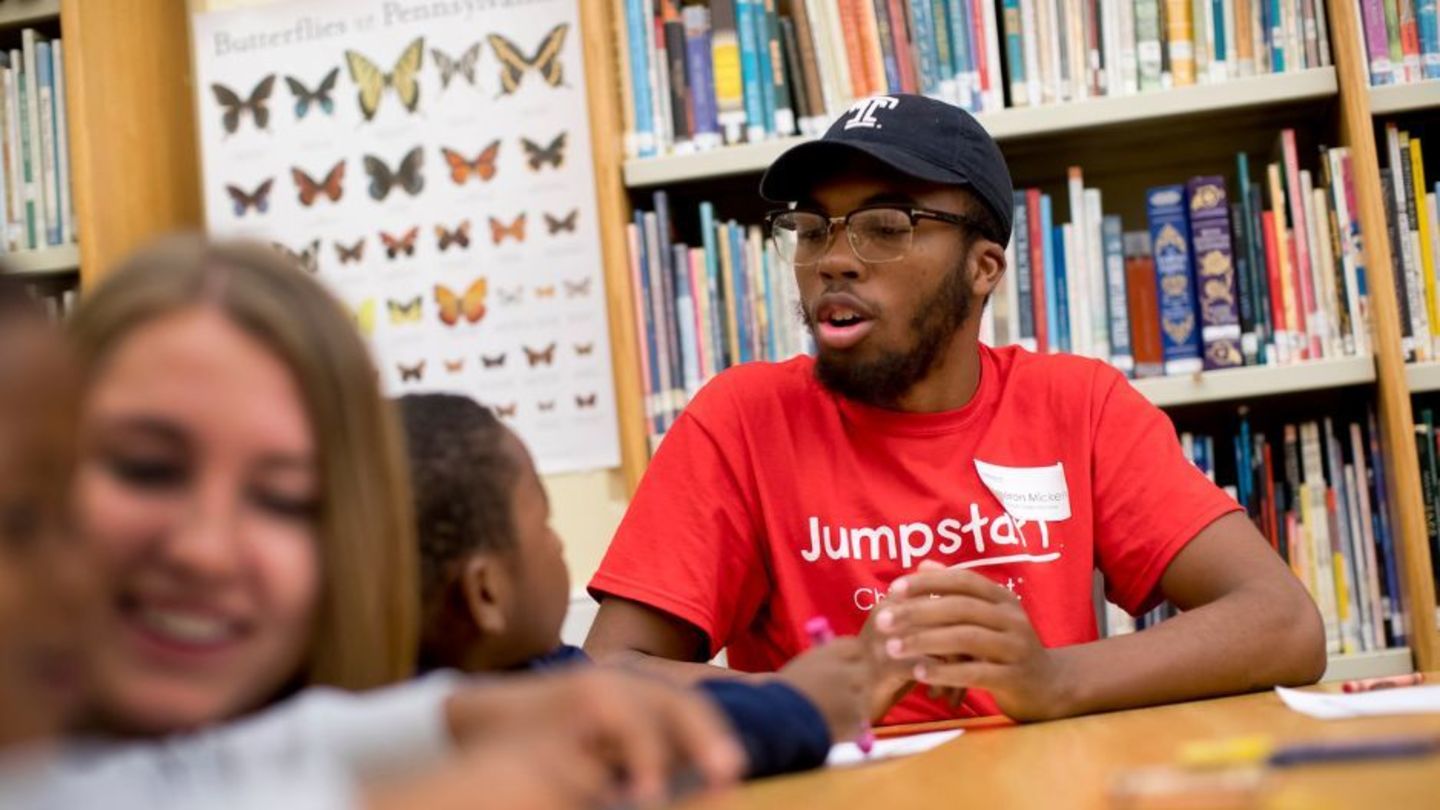 Photography by Ryan S. Brandenberg
"Jumpstart is a program working towards the day that every child enters kindergarten prepared to succeed." 
These are the words that Briana Sanders, Jumpstart program coordinator, repeatedly uttered as she described the mission of the program, which she connects with at her core. 
Sanders got involved with Jumpstart because of her own passion for childhood education. As a Temple student (EDU '15), she worked for R.W. Brown and has worked with children ever since.  
"Jumpstart students represent that passion because the foundational skills are taught in preschool. We're teaching character building through self-regulation, positive relationships, and teaching what it means to talk and express yourself," Sanders shared. 
Current senior and Jumpstart Team Leader Danielle Shapiro had an interest in more student-teaching experience during her freshman year of college. A classmate suggested she might be a great fit for Jumpstart. 
Shapiro guides and supports a group of corps members in reading to children in small groups. She also leads the class through a new lesson related to a storybook during each session. She facilitates "center time," where students are allowed to move freely through several activity centers that her team prepares each week. 
"Jumpstart is extremely rewarding," Shapiro said, "not only to myself, but also to the corps members. Over a short period of time, they get to watch students grow in their language and social-emotional development." 
Jumpstart is a supplemental program that recruits, hires, and trains college students in early childhood education in order to prepare preschoolers for the kindergarten classroom. Over the course of five weeks, recruits are trained in appropriate childhood development practices. This training includes what it looks like to engage with preschool-aged children with respect to language and literacy. Then, participants join preschool classrooms with their own research-based curriculum and implement their lesson plans. 
"Ultimately, our program is geared towards low-income preschool programs to support increasing language, literacy and social-emotional skills," said Sanders. "We know that those are the three building blocks to be successful in kindergarten and beyond." 
Jumpstart uses a screening tool in order to find preschools to work with. The organization looks for schools with at least 75% of their enrollment population at or below the poverty line. Currently, they work with the YMCA, Saint Malachy, Gesu, Saint Martin de Porres, Norris Square Civic Association, R.W. Brown and Community Concern #13. 
The North Philadelphia community is filled with children who are eager and ready to learn. Through volunteering and community service, Jumpstart hopes to provide children with the foundational support and resources they need to grow during the earliest stages of learning. 
In addition to going into the classroom on a regular basis, Jumpstart holds a variety of programs for the North Philadelphia community. One of those is the "Read for the Record" campaign, which takes place nationally every October. During this event, all Jumpstart participants across the country read the same book on the same day. This past year, the book was "Nigel and the Moon," by Antwan Eady. 
"Jumpstart is very particular about the books they choose and promoting diversity, equity and inclusion. They choose books that have mirrors to represent who they are, as well as having windows in order to understand the world around them," Sanders said. 
Other events include Read Across America, Jumpstart for a Day, and community service events such as the MLK Day of Service.  
"Jumpstart works in ways to dismantle the systems that prevent children and families from gaining quality education," said Sanders. "Whether that is beautifying the community, cleaning schools, handing out food, etc., the program really aims to impact the North Philadelphia community." 
All Temple University students are encouraged to get involved with Jumpstart. You can learn more about the program through their Facebook and Instagram pages, or by visiting their offices in Ritter Hall. 
"It is an extremely rewarding program to be a part of," Shapiro said, adding that it is meaningful to see the impact you can have on so many children's lives. "I highly recommend getting involved in Jumpstart if you want to get experience working with children and want to give back to the North Philadelphia community."