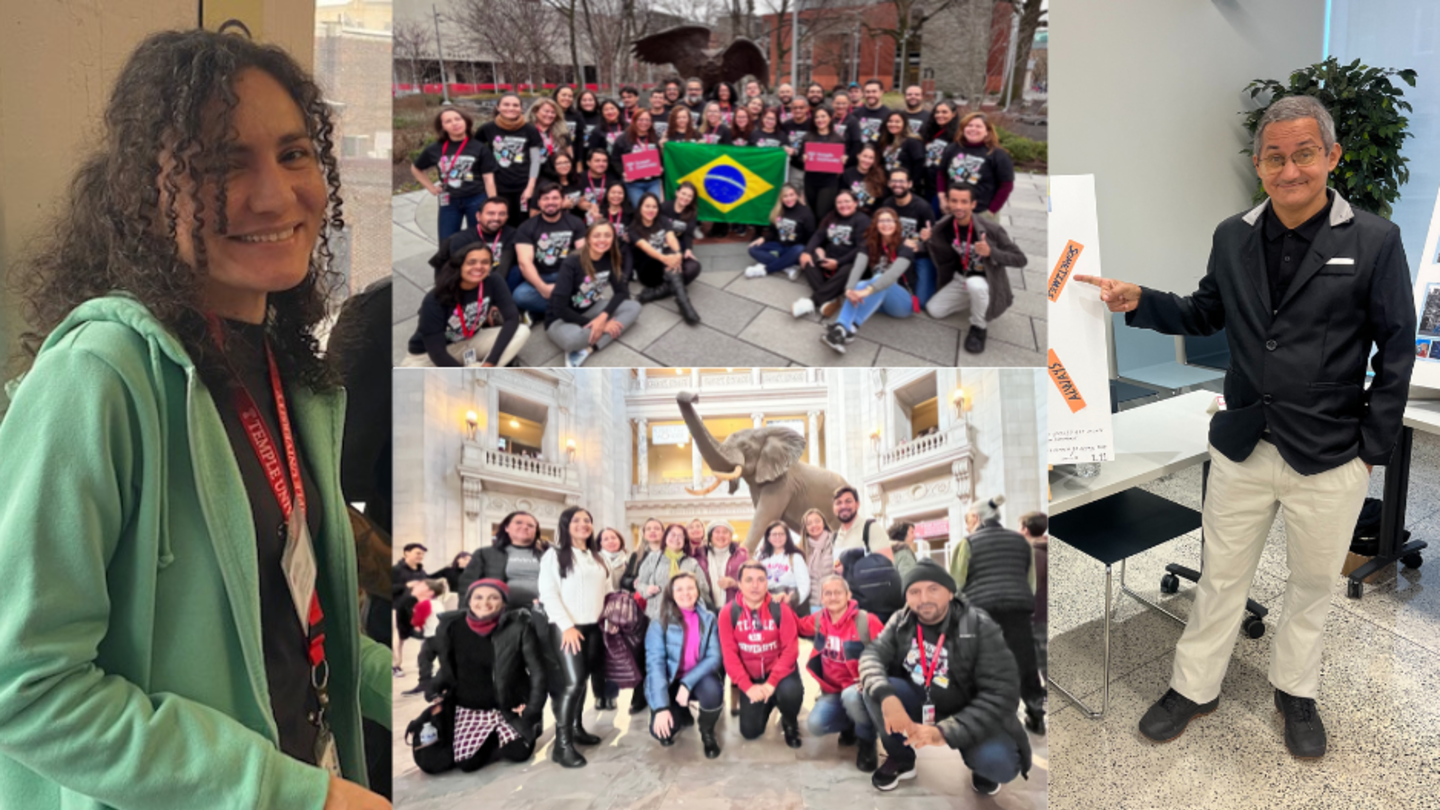 Courtesy of Temple Center for American Language and Culture
This spring, Temple University had the honor to host 44 Brazilian high school teachers as part of the PDPI program, Programa de Desenvolvimento Profissional para Professores de Lingua Inglesa nos EUA, an education initiative of the Brazilian government's strategic plan focusing on advancing English teaching in Brazil. 
Faculty members from the College of Education and Human Development's Teaching English to Speakers of Other Languages (TESOL) program connect with the PDPI participants through lectures on teaching methodology during the span of the exchange. 
Jill Swavely, CEHD professor of instruction in teaching and learning and coordinator for the ESL certificate program, says she feels privileged to take part in the PDPI program as a guest lecturer. "This experience has broadened my world view. It's amazing to learn how these teachers go beyond and make do with limited resources available to them," says Swavely. 
Originating from a public policy of the Brazilian Ministry of Education and supported by the U.S. Consulates in Brazil, the PDPI initiative is a six-week English language training program for educators teaching English language in public schools in Brazil. The program offers enrichment experience to in-service English language teachers throughout Brazil. This includes exposure to U.S. culture and society through immersive learning in the United States, as well as opportunities to learn English language teaching methodology directly from U.S. higher education institutions. 
The program is administered by the Institute of International Education (IIE) and the Brazilian Fullbright Commission. It is funded by the Brazilian Federal Agency for Support and Evaluation of Graduate Education (CAPES). 
"The PDPI program has taken great shape over the years," says Luis Pedroso, project management consultant for Fulbright Brazil. "It grew from 40 participants initially to over 500 participants. This wouldn't have been possible without the excellent partnerships between the PDPI, IIE, Fulbright Brazil, CAPES, as well as all the selected host institutions in the United States such as Temple." 
U.S. institutions interested in becoming a part of this program are carefully selected through a thorough grant process by the PDPI. The program is brought to Temple University by the Temple Center for American Language and Culture (TCALC), which provides long- and short-term programming for undergraduate and graduate degree-seeking international students and non-native English speakers learning English as a Second Language for entering Temple University and other academic and professional purposes since 1974. 
The Center plans and implements the PDPI program in its entirety and ensures that all components are in compliance with the funder's stated goals. 
"TCALC designs a curriculum that integrates methodology, technical applications, hands-on teaching practice, English classes, reflection, service learning, cultural activities, and regional trips to places like Washington, DC," Jacqueline McCafferty, TCALC director, shares. "A highlight of the program is observations at local public high schools where the Brazilian teachers engage with ESL students and teachers. This well-integrated curriculum helps them develop new teaching strategies, strengthen their English, and boost their understanding of U.S. culture. It is an invaluable experience for them." 
The comprehensive teacher training curriculum developed and administered by TCALC includes a total of 180 direct classroom contact hours. The College of Education and Human Development (CEHD) faculty contribute their time and expertise as guest lecturers to further enhance participant learning outcomes. 
Jacqueline values the longtime partnership between TCALC and the CEHD's TESOL program. "It's critical for us to work closely with professors from the field. Faculty from the TESOL department are most knowledgeable when it comes to contemporary research and theories," McCafferty emphasizes. "This partnership allows us to deliver top-notch experiences and expertise to our students." 
The PDPI has certainly created lifelong impacts. "It's a living memory of the participants," Pedroso shares, "having lived through this experience, our teachers come home more motivated and enthusiastic to teach. They are happier and feel well-prepared to pass on what they have learned and seen. It's not an easy task for our teachers to leave their jobs, or families, for a few weeks and afford this sort of experience on their own. Many of our teachers are from underserved communities, and being able to take part in this professional development program is empowering to them." 
Swavely, CEHD professor of instruction in teaching and learning and coordinator for the ESL certificate program, further comments, "talking to the PDPI teachers make me realize that, whether it is in Philadelphia or in their hometown in Brazil, we are both facing similar dilemmas such as poverty, urban education issues and access to resources, when it comes to teaching the English language." 
Elizeu Almeida Lima, a participant from this year's cohort, can't share enough about how to the value of learning directly from the faculty at Temple. He describes this experience as "lifechanging" and "marvelous," sharing "I'm a better teacher coming out of this experience." 
Similarly, Maria Elycristina Gomes Alves, also a PDPI participant, adds "I've spent six weeks in class as a teacher. Now, it's time to create a student-centered classroom of my own. When I come back, I can talk about the culture and motivate my students to learn and achieve more." 
Coming from an underprivileged background, Almeida says he sees this opportunity beyond just a professional development program. "I want my students to look at me as a role model. If I can go to the United States, so can they." 
The College of Education and Human Development is grateful for the partnership with the Temple Center for American Language and Culture and the opportunity to share our expertise with the PDPI teachers.