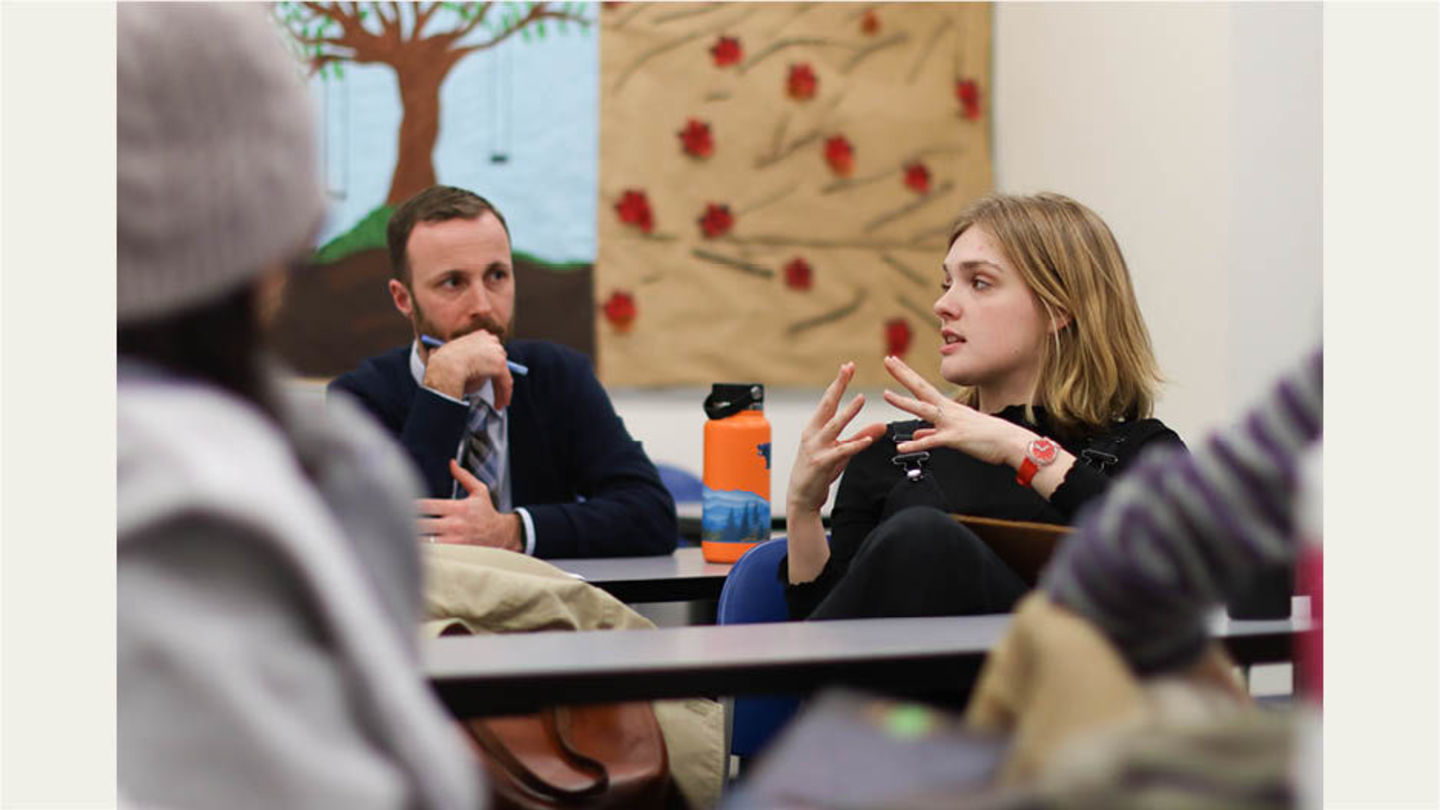 Ivy Nguyen
Forget about pushing boundaries. Future teachers in Temple University's secondary social studies teaching methods course (MGSE 3466/5466) are eliminating them. In doing so, they are developing a deeper understanding of their role in teaching middle and high school students about global citizenship.
Funded by the Erasmus+ EU Program for Education, Training, Youth, and Sport, "Global Sense: Developing Global Sensitivity Among Student-Teachers," examines how online interactions between teacher candidates influence student-teachers' perceptions of teaching citizenship.
The program was established in 2019 between graduate school friends Tim Patterson, assistant professor of teaching and learning in the College of Education and Human Development, and Aviv Cohen, from the Hebrew University of Jerusalem in Israel. At that time, the program was offered in an asynchronous format. Following the COVID-19 pandemic, as Zoom and video conferencing became a normal part of people's lives, the program was revived with synchronous interactions incorporated.
"Getting pre-service teachers from different national contexts to meet virtually was a game-changer for this project," Patterson said.
Along with Temple University's College of Education and Human Development and Hebrew University, participating institutions include Nantes University (France), Weingarten University of Education (Germany) and Université Libre de Bruxelles (Belgium).
Temple participants - undergraduate and graduate pre-service students working towards certification in secondary social studies education - developed a lesson around a central topic, Patterson explained. Students then worked in pairs to write a lesson plan, which is uploaded to a repository. Faculty facilitated Zoom calls with students across institutions.
In fall 2022, the topic was global migration. Students shared their own perspectives and experiences with each other during Zoom meetings, then revised lesson plans based on feedback from peers.
"I am not aware of many programs that link pre-service teachers across national borders" Patterson said. "Technology makes these meetings possible."
Not only is it possible, but it's impactful.
According to Patterson, in American classrooms, U.S. history is the dominant subject in many social studies classes. World history is also taught, but often with a primary focus on European history and "through the lens of European and American encounters" with other global cultures. He adds that it is rare "for students in American social studies classes to explore common values with their peers around the world or to consider their responsibilities as civic actors to right global injustices." Furthermore, Patterson notes, "social studies teachers report feeling unprepared to teach about the world," partly due to their own limited world history education.
But they, and educators around the globe, want to do better.
"Educators from diverse cultures want the same outcomes for their students," said graduate student Evan Serratore, "including diverse perspectives, historical empathy, humanizing history and contemporary issues and instilling a passion for learning."
As they look at the world through their own lenses, senior secondary education social studies major Nora Simmons said she wants to ensure her future students know how events happening around the world can impact them. "My main job as a social studies teacher is to make my students democratic citizens, and educating them on the global climate is essential."
That starts within. Throughout the experience, Patterson said, he witnessed the growth among participants. "It seems many of the Temple pre-service teachers had their understandings of the world challenged through this experience. They also expressed a desire to honor multiple perspectives in their future classrooms."
Undergraduate students Blake Hazel and Dylan Ergott are looking ahead to their careers with optimism and a new sense of global connection.
"By being a part of a global community," Hazell said, "we are able to share our interactions with various institutions and how they affect our classrooms and others." He added, "There seems to be an importance in a community of teachers who worked towards a common goal."
"It gave me a sense of hope for the future of education to know that there are a lot of very impressive and intelligent people who all believe in a better future for students," Ergott said. "It was a pleasure to connect with students across the globe."
The GlobalSense project is rooted in the idea that online cross-national exchanges will help enrich views on global topics. At the end of the semester, "the students leave with enhanced global sensibility, an awareness of their place in the world," Patterson said. "We have a civic obligation to people who are far away, and we can connect with them."
"Life and work over Zoom is here to stay," Patterson noted. "While we once needed to travel great distances to enjoy such cross-cultural experiences, the technology is available to bridge those gaps. I believe tele-communicative technologies will continue to impact global learning in small and big ways. Our project has scratched the surface of how teacher educators might foster global learning through online interactions."
The program is expected to continue in fall 2023. Interested students should refer to their academic plan and consult with their academic advisor.
Students say:
"I was able to gain a new perspective of what it means to teach history." -Joy Alicea
"This global meeting really helped me to see that many of the methods I would consider using in the classroom are also used within schools in other countries." -Alexis Barbella
"The logistics of the issues we talked about differ from country to country, but the concern and passion we have for teaching issues about migration are the same. I am eager to utilize the ideas we talked about to foster a sensitive and comfortable environment for students to learn about serious topics." -Schuyler Capriotti
"My peers said our values and education isn't much different, even though our world is much apart." -Kenny Chen
"As a prospective teacher, I understand my responsibility as an individual who needs to teach the complexity of immigration; from the socio-economic impacts, to language barriers, to discrimination, to the effects on subsequent generations." -Eric Druding
"As a teacher, I'll try to see how I can incorporate more elements of world history in my students in order for them to understand global citizenship and its changing dimensions." -Joel Goldstein
"Learning about and leaning into other cultures and lifestyles helps bring a sense of humanity to places that my students will not be able to physically travel to. I want to teach my students to be global citizens and always look to improve their knowledge and stay involved and worldly." -Meghan Sjogren
Associated partners for the project include DILCRAH, Mesila, the Developmental Educational Information Center, Ligue de l'Enseignement, EuQu - The European Quran, and Maison des Sciences de l'Homme.