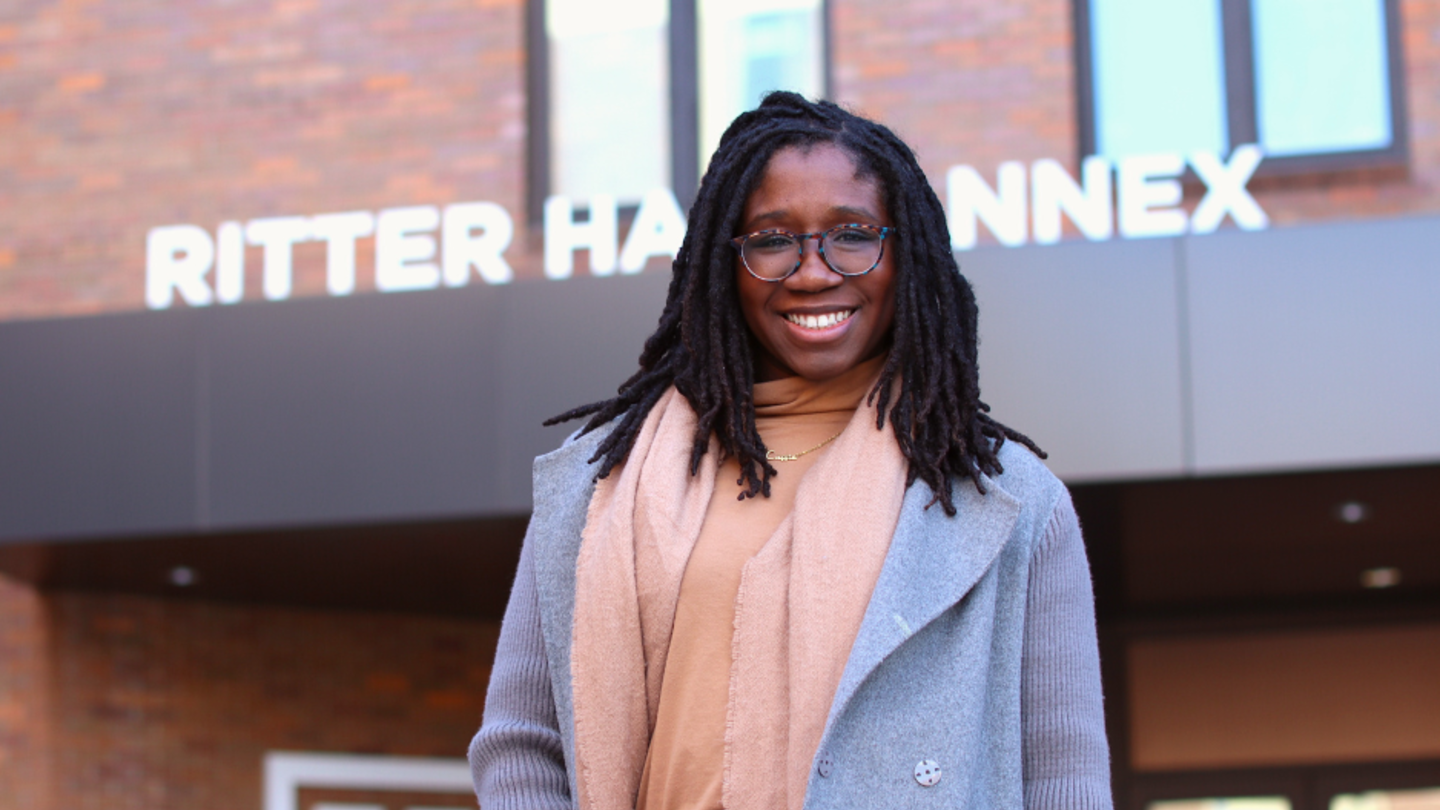 Photography by Ivy Hoa Nguyen
"My previous education had focused on conflict and war, and all the other things that force people to leave their home country. It would be really great if I could help those people in a different way." 
This is what Whitney Skippings, who will give the graduate student address at the 2023 College of Education and Human Development graduation ceremony, shares about her change of career from international affairs to counseling psychology. 
Before starting her master of education in counseling psychology program in the College of Education and Human Development (CEHD) at Temple University, Skippings had gained for herself a worldly of experience. 
Born and raised in Silver Spring, Maryland, her studies took her to Spelman College in Atlanta, where she double majored in international studies and philosophy, and then to Georgetown University, where she obtained her master of art in security studies with a focus on counter terrorism, as well as sub-state violence, particularly focusing on the East Africa regions. 
As a student, Skippings studied abroad twice in Uganda and Rwanda, learning about their cultures and peace philosophies, and working with local peace building organizations on the ground in those countries. After graduating from Georgetown, Skippings worked for the State Department for a few years, where she continued to examine the political trends and conflict in Africa, specifically East and Central Africa. 
Skippings and her husband spent two years in Tanzania working at the U.S. Embassy there. It was during this time that she realized she needed a change of career. 
"It was the height of the pandemic, and I didn't feel fulfilled enough with what I was doing," Skippings shares. Despite having what she thought was her dream job—great location, coworkers, and mission— she knew that it was time for something new. 
Looking back at her career, past experiences, the places she has been and the people she has met, Skippings says she realizes the importance of serving and giving back to the population she has always worked with. She is driven to create a positive impact on people's lives. 
"I wanted to do something different and thought of counseling. I wanted to work with the same population I've always studied, but from another angle," Skippings emphasizes. 
Discovering her passion for counseling, Skippings and her spouse moved back to the United States. She said Temple University was the perfect choice for her, as it is close enough to her home in Maryland, affordable and offers exposure to a diverse student body. 
"I didn't want to do my degree where there was just a homogeneous group of students," Skippings shares. "That just didn't seem like a good fit for me. I wanted to get the education that I need alongside students who look like the populations I want to serve." 
In addition to pursuing her master of education in counseling psychology, Skippings works as an immigrant wellness program health case manager at HIAS Pennsylvania, a nonpartisan, 501(c)(3) refugee protection organization providing vital services to refugees and asylum seekers around the world and advocating for their fundamental rights so they can rebuild their lives. 
"When refugees come to the United States and land in Philadelphia, my coworkers will meet them at the airport and help them find an apartment or an Airbnb temporarily," Skippings explains. "The U.S. Government requires them to have certain vaccinations for school or work. That's when I come in to help them get all of their medical documentation together. That helps them with their green card process. It's my job to connect them with different resources so that they can get the help they need." 
Skippings further elaborates on the struggle and harsh reality that many refugees face, including pre-existing health conditions and limited access to healthcare. Many show mental health concerns. 
"My job right now is the middle point between where I want to be, which is providing therapy for these populations, and what I already know, which is the policy behind conflicts that drive them to the U.S.," Whitney shares. 
Despite the busy workload and having to balance family, schoolwork, a full-time job and more, Skippings also participates in a clinical mental health internship at Penn Medicine to gain in-depth knowledge of working in the community behavioral health space. On top of that, Skippings notes that while it was a fantastic opportunity, the unpaid internship requirement for counseling students is a growth area, and that the creation of more paid opportunities could help diversify the mental health field. 
Skippings expresses her great gratitude to the professors she has throughout the graduate program at Temple. She says that they always make themselves available and accessible for her to ask questions whenever she is stuck.  
When asked about her favorite graduate coursework in the College of Education and Human Development, Skippings reflects on the fundamental counseling techniques class. 
"We learned through role play and how to respond to the situation that was presented to us. It was the first class where I realized the big difference between being a therapist and a good friend. That class hit me quick, and I thought to myself I could be good at this." 
Additionally, Skippings mentions that her peers in the counseling psychology program inspire her in the best way possible.  
"I'm impressed by how driven and compassionate my classmates are, and their real willingness and dedication to help the community they care about," Skippings shares. "I know a lot of my classmates have gotten jobs that are good fits for them. I'm excited to see what they are doing next." 
Skippings looks forward to graduation and starting her doctorate program in counseling psychology at Howard University.