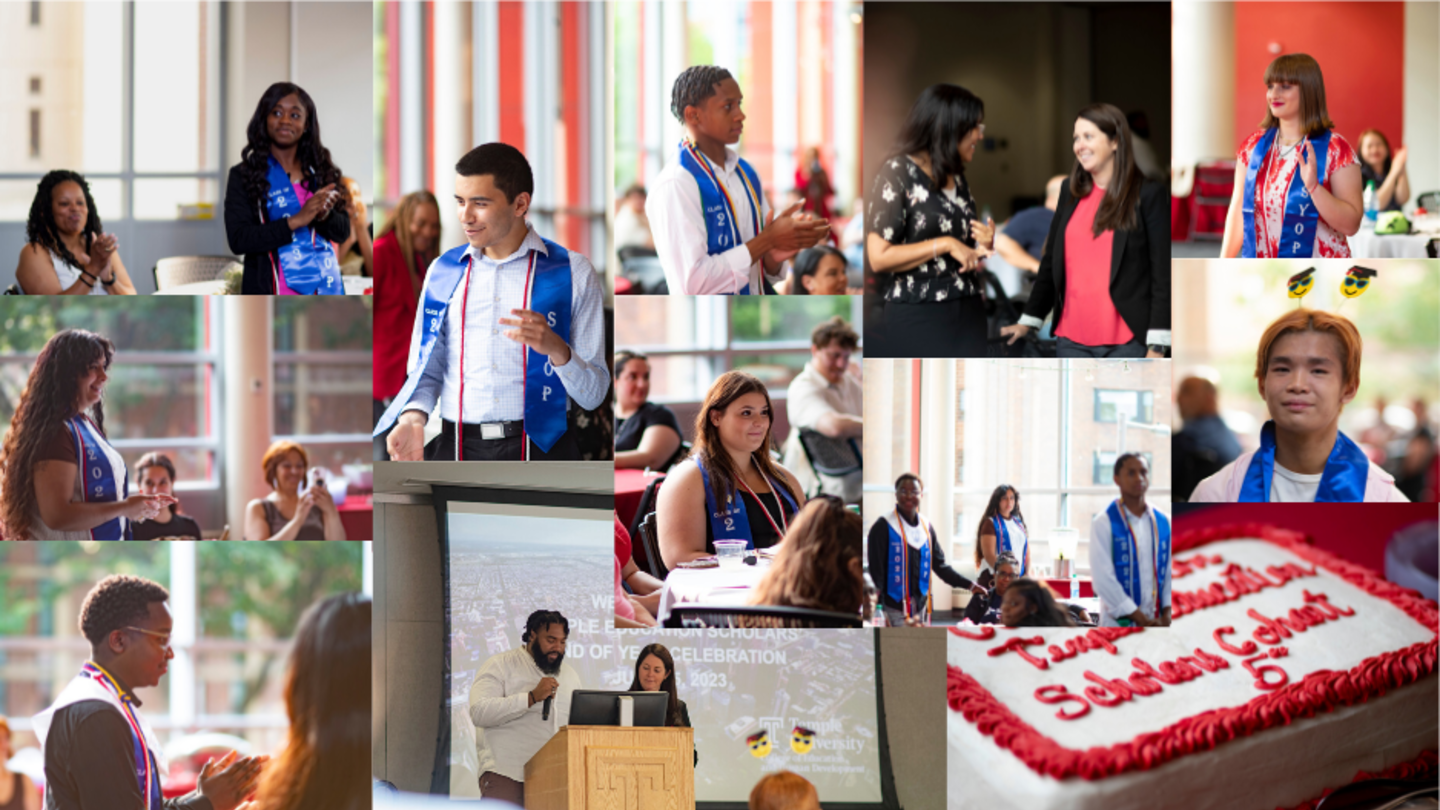 Photography by Ryan S. Brandenberg
Eccentric, feedback-oriented, ready-to-lead and goofy — these are just a few of the words used by Elijah Rhea, assistant director of college access and persistence initiatives at Temple University's College of Education and Human Development (CEHD), to describe the remarkable students of the Temple Education Scholars (TES) 2023 program. 
TES 2023 scholars are not only academically driven, but they also exhibit a huge passion for collective change. 
"The students are fun to be around. They are critical thinkers and have strong opinions about things that they want to see changed in their own schools and district," Rhea said. "As they gain more understanding about the role of education in our society during their time in TES, they learn to channel their feedback into fruitful conversations with their school leadership, leadership in TES and in the College of Education and Human Development, as well as with leaders in a larger context. And that is amazing to see." 
Temple Education Scholars, as part of a long-term and broader effort to support post-secondary access and success in higher education, as well as tackling the teacher and teacher of color pipeline challenges, prepares college-bound high school seniors for future employment as educators within the Commonwealth of Pennsylvania. School District of Philadelphia students receive full tuition support for this one-year dual enrollment program. 
On June 15, 2023, the college, TES staff, parents and students came together on Temple's Main Campus to celebrate the graduation of nine Philadelphia high school students in the Temple Education Scholars 2023 cohort. All are headed to college this fall and next year, many of whom will be continuing their education at Temple's CEHD.  
The TES 2023 celebration was filled with overwhelming joy. The event was made even more special when Derek Coffman, CEHD's major gift officer, announced that for the first time ever all TES scholars committed to pursuing a bachelor's degree in a Temple CEHD program will receive a four-year, last dollar scholarship award. The financial support will close any gaps in financial aid for tuition from central or external sources. 
"It was really a sight to behold," Coffman recalled. "Everyone who witnessed was blown away as the news came out. Mothers and fathers cried happy tears and the students were in shock." 
Juliet Curci, CEHD's assistant dean of college access and persistence, says she is thrilled about the significant implications this scholarship will bring to the future of our education landscape. 
"Last dollar scholarships for the students who complete TES and want to pursue degrees with CEHD are more than game-changing; these scholarships are life-changing for our scholars and our communities. We need more people to pursue careers in education, and young people of color, like Sydney Smith, to do so," Curci said. 
As a longtime advocate for first-generation college students, Curci further elaborates that Pennsylvania has one of the largest demographic mismatches in the country between students of color (37%) and teachers of color (6%). With nearly half of all school districts in Pennsylvania employing zero teachers of color, hundreds of thousands of students in the state never experience having a teacher of color in their K-12 classrooms (Research for Action, 2022). 
"Knowing all the research that underscores the benefits of teachers of color for all students, and the importance of culturally relevant and sustaining educators generally, we need to reduce barriers to the profession for those who are motivated to impact the lives of young people as classroom teachers," Juliet stated, citing the Learning Policy Institute's Diversifying the Teaching Profession: How to Recuit and Retain Teachers of Color Report.  
Aiming to become a special education teacher, Mia Margaret Palma, a TES 2023 scholar, says she can't wait to start her freshman year as an official Temple CEHD student.   
"When I found out about TES and that it was all about education, I jumped right in. Temple was my first choice for college. So, I knew this program was going to help me from the start," Palma shared. "I was so honored and happy knowing that I will have all four years of college funded and be able to graduate with zero debt. It was a surreal moment when the news came out." 
Palma also explains that this scholarship is going to make it a lot easier for her to enter the workforce after graduation. She added, "my goal is to achieve changes that I want to see in the classroom for children who need special accommodations. This scholarship will help me focus on the changes I want to make." 
While not all TES participants pursue admission to Temple and a major and/or a career as an educator, all will certainly benefit from the comprehensive program plan, including the course offerings, college readiness programming, college application support, as well as meaningful and life-long relationships with peers, Temple staff and professors. TES scholars are surely equipped with the tools they need to navigate through college regardless of the profession they choose to pursue. 
As the new school year unfolds, the College of Education and Human Development is excited to welcome seventeen high school students from diverse backgrounds across the Philadelphia school district to the Temple Education Scholars 2024 cohort.  
"My vision for the future of TES is to work towards expanding the cohort and being able to offer it to more students. The reality is that it takes dollars to do so," said Rhea. With the college's unwavering commitment to education access, our community is dedicated to providing future TES participants with scholarship awards that can help set them up for success as emerging young educators. "It's crucial to be able to find the support that can help fund students' college education if they decide to come here to Temple. I'm excited that our incoming cohort almost doubled in size compared to what we had last year," Rhea added. 
Currently, scholarships for TES scholars are made possible thanks to the Robert J. Smith Memorial Scholarship Fund and the Joshua & Harriet Berks Kalin TES Endowed Fund. 
The cost of an undergraduate degree remains a significant barrier. Juliet Curci expresses she is grateful for CEHD alumni and friends, whose generosity has enabled some of our students to achieve their dreams with ease. 
"We have no doubt that, with this support, we will be able to diversify and bring more people into the education profession, as they already have in the case of several Temple Education Scholars graduates to date," Curci emphasized. "We want to increase the number of students recruited and retained for this critical role in our communities. Supporting them with last dollar scholarships is essential to meeting this goal." 
Derek Coffman, CEHD's major gift officer, believes that before one can be an accountant, a dentist, an engineer, a political scientist - before one can excel in any of the disciplines of study here or any institution of higher education - they need to receive a quality education in early childhood through adolescence. Education is the primary mechanism for social mobility and social justice. 
"An investment in TES is an investment toward the welfare of the city of Philadelphia, the region, our state, and beyond," Coffman stated. "I consider it a great honor and privilege to fundraise on behalf of this goal. It is my hope that others will join in making contributions towards expanding the TES program, and to funding last-dollar scholarships for its graduates choosing a career in education here at Temple." 
Support the next generation of educators, like Mia Margaret Palma and Sydney Smith, through the Temple Education Scholars program. Visit giving.temple.edu/TempleEducationScholars or connect with the College of Education and Human Development Major Gift Officer, Derek Coffman, at derek.coffman@temple.edu, to learn more about ways to make an impact with your gifts.