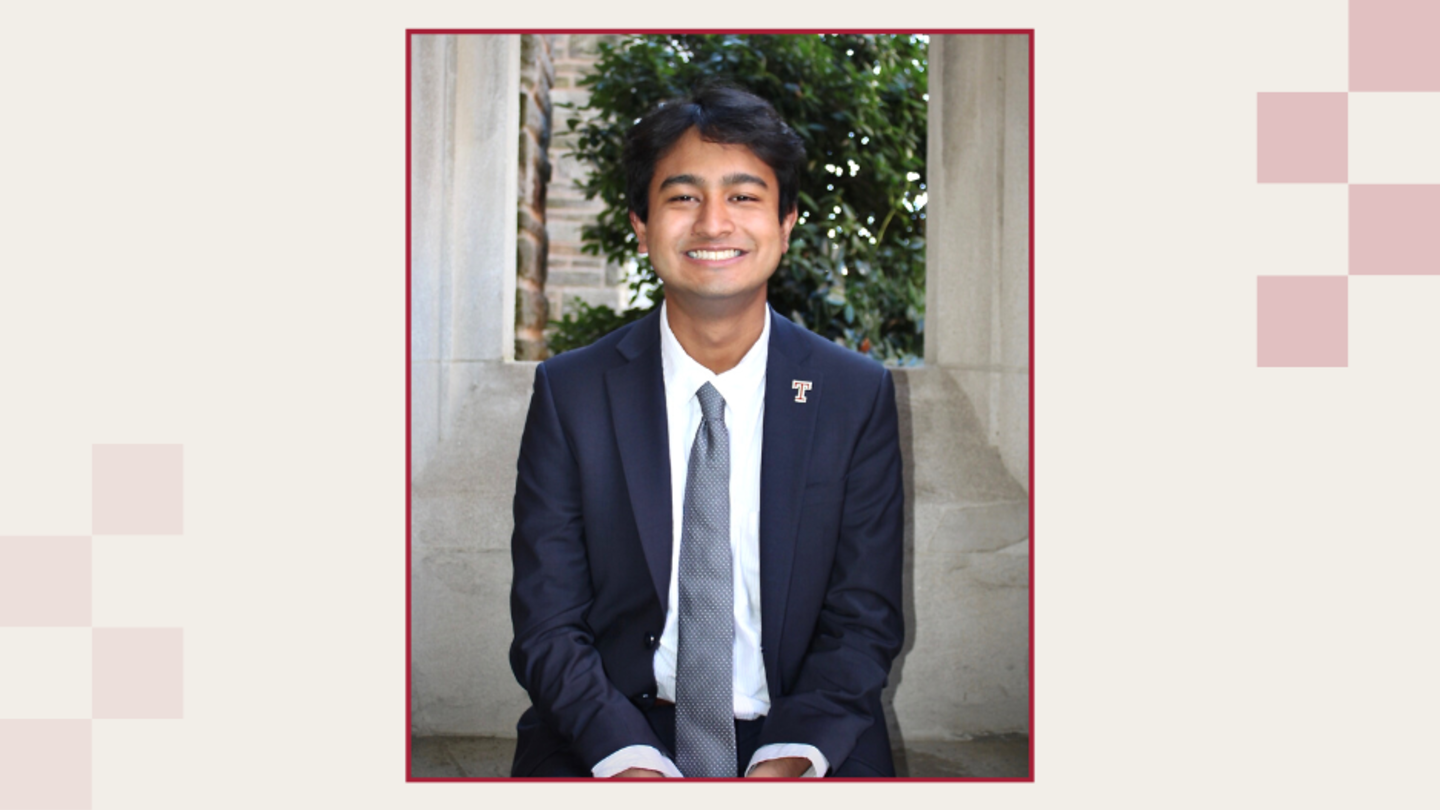 PHOTO COURTESY OF ROHAN KHADKA
Rohan Khadka is a junior studying secondary education-social studies with a specialization in political science in the College of Education and Human Development (CEHD) at Temple University. His interest in being a teacher and an advocate started from a young age.  
Khadka was born in Nepal and lived there for six years. At six years old, Khadka and his family moved to New Hampshire. Later, they moved to Mechanicsburg, Pennsylvania. He finished his school years at Cumberland Valley High School, a Title I school serving a large population of minority and low-income families. In school, he consistently connected with his social studies teachers. 
When he arrived at Temple University, Khadka majored in political science, but he says he was still drawn to teaching. "There are all these privileges we have that we do not think about," says Khadka, adding that many of his relatives from Nepal could not receive a proper education. Growing up inspired by his teachers, he said he recognizes the value of their work and wants to give back. Eventually, he changed his major to secondary education-social studies with a specialization in political science. Khadka recalls the debut of the Abbott Elementary television series as a defining moment, a sign for him to pursue education. The show is about a public, underfunded school in Philadelphia. The creator, producer, co-writer and star of Abbott Elementary, Quinta Brunson, is also a former Owl. 
"There was a show about a school in Philadelphia and people our age. I felt like this was my calling," Khadka explains.  
When he is not in class, Khadka is busy working towards serving, uniting and building the Temple community with his peers as president of Temple Student Government (TSG). He was elected at the end of his sophomore year and says he hopes to make students feel more involved because it will enhance their college experiences. He believes each student has something unique to offer. Khadka's campaign, "Empower Owls," focused on policies relating to campus safety, sustainability, campus life and equality.  
"Our whole goal this year is to create more of an umbrella under Temple and make us feel more like a community," Khadka says.  
As an immigrant, person of color, and first-generation college student, Khadka says he does not take his leadership position lightly. While making decisions, it is important to him to consider the people he is representing.  
"Every time I walk into a room, I am not alone. I have so many people and groups I represent. Being a person of color in education is big," says Khadka. "I had very few people of color as teachers." He emphasizes that students feel empowered and safe through connections with teachers who share similar experiences.  
Khadka considers himself to be collaborative and drawn to being an advocate.  He says his interest in teaching significantly impacts his advocacy work in TSG. When considering issues, he says he has an "educator brain." He explains that he takes action not just as president, but as a future educator and that he cares about how issues affect the school system.   
"I've always been in spaces where I am advocating for people or being advocated for," he says. Knowing what it is like to be on both sides of this motivates Khadka to be a better student leader. Khadka says that his leadership team always strives to be "people helping people." 
Khadka is passionate about educational policy as well.  He hopes to see teachers being paid more, working contract hours, and having access to adequate resources and classrooms.   
"Change only happens if we talk, if we demand better, and if we push for better," says Khadka. The College of Education and Human Development faculty is here to "foster a new era of educators." He recognizes academic advisor Allison Warren as someone who is there for students through her work pointing out available resources, helping create graduation/course schedules, and just being a support system. 
As a leader, Khadka wants to hear the voices of those he represents. He invites feedback and suggestions by contacting TSG. 
As a student, he says he is proud to be a part of the CEHD, with faculty, staff and students that are here to "foster a new era of educators" to serve and lead in their own communities.