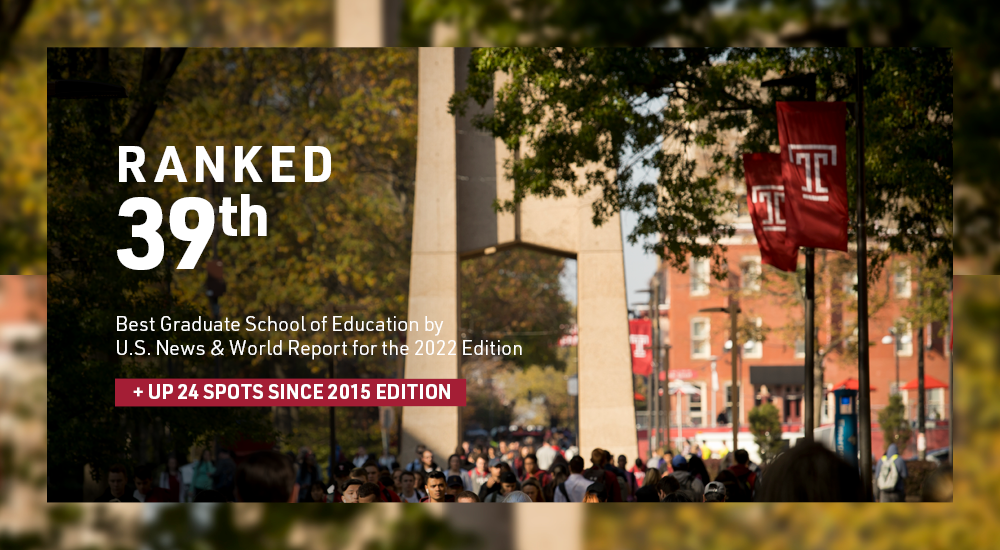 The College of Education and Human Development at Temple University was ranked among the top 40 best graduate schools of education in the country by U.S. News & World Report for the 2022 edition. The College of Education and Human Development (CEHD) ranked No. 39 for the 2022 edition. Temple has risen 24 spots in the Best Graduate Schools of Education ranking since the 2015 edition. The college earned its ranking among more than 250 schools and colleges in the country by exhibiting excellence in a number of measures, including enrollment selectivity, faculty resources, research and assessment scores from other institutions and professionals in the field of education. 
"Our latest U.S. News ranking is a living tribute to how all the hard work of our faculty, staff, students and dynamic Institute and Centers pays huge educational dividends over time," said Dean Gregory M. Anderson. "Having dramatically increased our national ranking by 24 spots over roughly an eight-year period, the College of Education and Human Development now proudly stands at No. 39 across the nation. This achievement is driven by strategic investments in our faculty and a commitment to vigilantly improving and transforming our academic degree programs to meet the needs of students," added Anderson. 
In 2020, the College of Education and Human Development announced several strategic priorities and initiatives meant to transform the college and pave the way for continued growth as a leader in research and preparing accomplished educators and human service professionals. The college expanded its name to reflect its increasing curricular offerings and elevated commitment to education and human development. The new name also recognizes the important work of the college's centers and institutes in the North Philadelphia community and beyond. Additionally, Dean Anderson launched the Centennial Scholarship Challenge, an initiative to promote the affordability of undergraduate and graduate degrees in the College of Education and Human Development. As a part of the challenge, the college will match up to $4 million in gifts over the next four years to establish new scholarship opportunities for its students. In late 2020, renovations to the college's home in Ritter Hall and Ritter Annex began. These renovations will transform the college's teaching and learning spaces to enhance collaboration and interaction between students, faculty and staff.
"This rise in the rankings validates the college's efforts to support our faculty and staff in simultaneously providing a high-quality instructional experience for students while maintaining an exceptional level of scholarship and research productivity," said Dr. Julie Booth, deputy dean of academic affairs and graduate faculty. Booth added "I am proud to be helping to lead one of the top graduate schools of education in the country."
The college offers more than 35 graduate degree programs, including graduate certificates, master's degrees, education specialist (EdS) and doctoral degrees. Some degree programs can be completed online or through a blend of online and in-person courses.
Learn more about Temple's Best Graduate Schools of Education ranking.