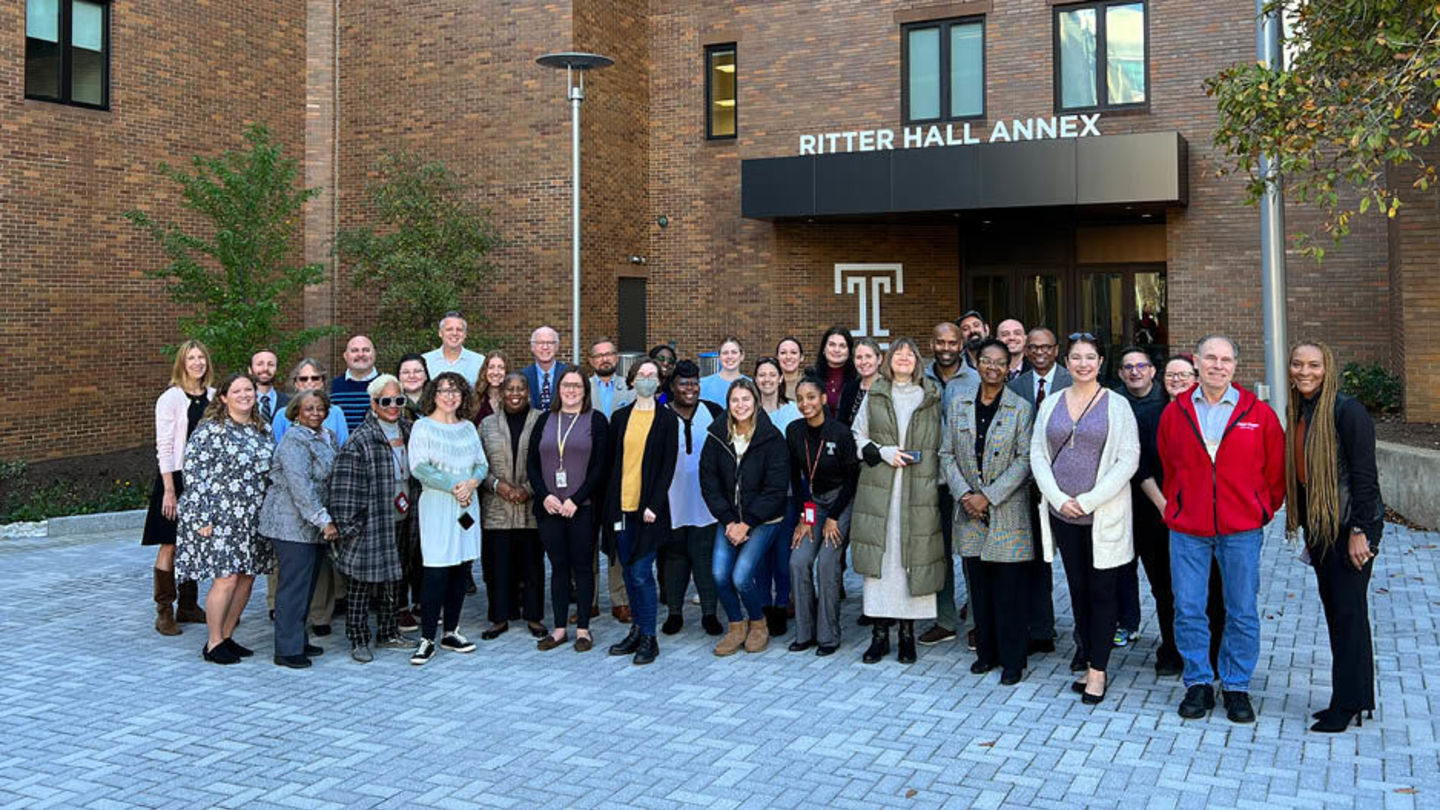 Aayushi Doshi
Our hearts are full as we reflect on 2022 in the College of Education and Human Development. As we celebrate some of our fondest memories from this year, we look forward to ushering a new year of growth through research, teaching and service. We remain steadfast in our mission to prepare all of our students as educational leaders and agents of change who employ leading-edge understandings and evidence-based practices in whatever setting they work.
James Earl Davis, PhD, begins servings as Interim Dean
On June 1, James Earl Davis, a tenured professor in Policy, Organizational & Leadership Studies (POLS), stepped in as interim dean to support the excellent work of our students, staff, and faculty and to bring unity to our college while celebrating our diverse experiences and perspectives. Dean Davis has been with Temple for 22 years and previously served as interim dean from 2010 to 2013.
Welcoming new students at Convocation
Back-to-school season is obviously one of our favorites! We love welcoming new students to CEHD each August with Convocation and other special events.
Faculty honored
The College of Education and Human Development recognized seven faculty with awards for outstanding teaching and mentoring. These faculty demonstrate particularly notable innovative classroom teaching, excellence in promoting student learning, and outstanding performance in helping students attain program or career goals.
New staff arrivals and promotions
They say the only thing constant is change, and the college is looking forward to growing in the new year following the arrival or promotion of many employees in 2022.
Homecoming and Family Weekend 2022
Temple Owls are everywhere, and Homecoming is always a great time to celebrate Temple pride with current students and their families, and to reconnect with alumni. This year, we also celebrated the inauguration of Temple University's 12th President, Dr. Jason Wingard.
Ritter Complex renovations
We'll miss you, Kiva auditorium, but we're loving our new look… inside, and out!
Gallery of Success
Educational leadership runs in the family. Kent Paredes Scribner, EDU '92, is this year's College of Education and Human Development Gallery of Success honoree. Scribner, who led the Fort Worth Independent School District for seven years until his retirement in August, is the son of four-time Temple Owl and former Gallery of Success Honoree Alicia Paredes Scribner ('77, '82, '87 and '89) and former College of Education Dean Jay Scribner.
30 Under 30
While we're talking about awesome alumni, did you notice our two 30 Under 30 honorees? Meet Matthew Kerr, EDU '14, and Matt Menschner, EDU '15.
Happy 80th birthday, Joe!
College faculty and staff gathered in December to wish Professor Joe DuCette a very happy 80th birthday! Dr. DuCette has been part of the CEHD team since 1968. He told us he's still gladly accepting birthday gifts in the form of donations to the Dr. Joseph P. DuCette Student Emergency Need Fund.
Commencement with Sean Desai
Improving interpersonal relationships on your New Year's resolution list? Our 2022 commencement speaker and Seattle Seahawks Assistant Head Coach Sean Desai, EDU '08, has some words of wisdom: "Whether you're teaching or coaching or you're an educator, this is still a people business, and it's about the relationships you build and keep."
For a look back at our year through photos and more, visit our Facebook page. We can't wait to make more memories with you in 2023!